These have been challenging times for most companies with the changes in revenues, uncertain cost of labor, and the focus on culture and employee engagement to help drive the business. For most companies compensation and benefits are one of their top three expenses. At the same time, engaged employees are one of their most valuable and strategic assets.
So what has Covid-19 taught us during this time? One thing is that most leaders have been much more flexible, fluid and responsive than they previously were. It has also shown us that most companies are run by very smart people who when forced to adapt, can do so and create a new culture, work environment and still have a sustainable business after this crisis has passed.
We have seen companies shift almost overnight to a remote workplace, or gone from in room dining to a robust carryout or delivery service. There have been many examples across all industries. These have been remarkable accomplishments. One valuable lesson is that companies and their employees have truly become partners to accomplish these. The employee as an asset has never been more accurate.
Additionally, most employees now see that their employer has taken dramatic steps to keep them employed, ensure their safety and try to accommodate their individual needs during a period of economic uncertainty. Both sides now clearly see their role in this synergistic relationship.
What this will mean is that the same flexibility will be required when structuring benefit plans to recruit and retain the best talent. We will see a meteoric rise in benefits such as telemedicine, student debt repayment, and mental health benefits.
We learned that companies and employees need each other and are not just an "expense" or "asset". Much like the flexibility in dealing with the pandemic, we will need to be fluid and flexible in designing plans and strategies that recruit and retain the best talent. This means businesses will stop looking at these costs as an expense and understand that they are an investment.
What has not changed is that the company with the best talent wins.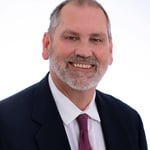 Tim Love, CEO, Alltrust Insurance